Banners, Web Rings and the Like
www.1chapter.com - Your complete source for Christian electronic books. Where the first chapter is always FREE!
New Life Network, Inc. Home of the award winning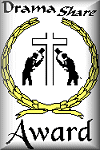 Celtic Christianity
Chat Room
Children's Ministry
Christian Music
Christian Drama
Games
Guidebook to Christianity
Guidebook to the Bible
Home Page
Jokes
Prayers
Bible Study Resources
Sermons
So What?
What did Jesus Do?
Who was Jesus?