Bibles - Online study bibles, all in the public domain and free to use
American Standard Version
Revised Standard Version
Geneva Study Bible
Authorized Version
Derby Translation
The Worldwide Study Bible
New International Version
Youngs Literal Translation
The Jewish Bible
The Unbound Bible is a collection of searchable Bibles consisting of:
- 10 English versions including the NASB
- Greek and Hebrew Versions (the original Bible languages)
- 4 ancient versions
- 42 versions in other languages
and many of these are available FREE to download

Versions of the Bible - A most comprehensive historical survey from the Catholic encyclopaedia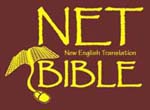 Study Bible which has both many translations and commentaries and is truly user-friendly
The Postmodern bible! - Multimedia Bible commentary online - serious Bible study with 100s of sound & picture files...

Want a potted history of the Bible in English? Then look no further than here - This site will even sell you an antique Bible!
An Understandable History of the Bible - (complete online book) Where is the Bible? How did we get it? These questions, though simple, have baffled the mind of man for years. Even Christians today wonder if they really have the Word of God. Most Christians are interested in how the Bible came to us through history.
The Bible History, Old Testament by Alfred Edersheim was originally published 1876-1887 in seven volumes. This electronic version of his work is from an edition that appeared in 1890 which contains all seven volumes.
Commentaries
Matthew Henry's Commentary
Nave's Topical Bible
Easton's Bible Dictionary
Search the Bible:
in:


using:
Include Study Tools HELP
Copyright Crosswalk.com, Inc.
The BIBLETEXTS Online Bible Commentary by Robert Nguyen Cramer. The textual commentary is based upon and has been carefully edited to be in complete agreement with the United Bible Societies' definitive Biblia Hebraica Stuttgartensia (Hebrew Old Testament) and Greek New Testament (Third and/or Fourth Revised Edition), and includes clarifications and corrections to the King James Version wording..... You have been warned!
From Bible.org is a regularly updated list of ebooks. Each new study added to their web site is listed on this page and dated so you can easily track what's new
A Bible Commentary for Muslims
Muslims ask [or attack the Bible with] questions which are sometimes not answered in usual Bible commentaries. For this reason, The writer wants to provide here a data base of Biblical exegesis answering those Muslim questions or claims about several Bible pasages.
A Collection of Biblical Tables to facilitate your research. From 'Angels' to the 'Will of God.' This page will constantly be updated.
Compare translations for passages and word search
Concordance
This Interactive Concordance of the Bible, sponsored by Timberline Church church in Fort Collins, Colorado, is a tool designed to assist you in your study of the Bible. Its purpose is to extract from the entire text of the Bible those verses that satisfy certain search criteria that you can specify
Gateway Bible Concordance - Search for Bible References in many languages
Online Concordance of the Holy Bible, King James Version
The linked word project - A resource offered by Bob Jones University, and pretty awesome in it's scope
Strong's Concordance with Hebrew and Greek Lexicon
Here's one for the technical minded! THE HOLY BIBLE Vulgate Translation concordance. Do we bring you variety, or do we bring you variety!
Exegesis
Biblical Exegesis. . . an Approach for Hebrew Bible Research - Divinity Library Research Guide
What is exegesis and why is it necessary? Successful exegesis rests upon a sensativity concerning the distance between us, the post-modern reader, and the ancient texts of the Bible
Bible Interpretation - Interpretation Hermeneutics Exegesis Lessons Commentary - to help those who want to learn about Bible Interpretation, and covering the basic rules and guidelines of interpretation.